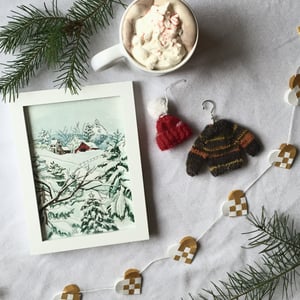 $

35.00
Last night I woke my son up in the middle of the night to see the quiet falling snow outside because I thought it would be gone by morning. He smiled at it and then fell back asleep on my shoulder before I could tuck him back in bed.
This morning, we woke up with the snow still clinging to the branches and covering the ground so we stuffed our pajamaed bodies into our clothes and coats, and tied our scarves around our necks.
We tromped down the street, following early morning footprints made by neighbor friends and animals. We made our first family snowman and gave him a leaf face, because we were too hurried to remember a carrot. We met a puppy named Bjorn who was wearing his hand-knit Christmas sweater.
When our hands got too cold to stay outside any longer, we came inside, left our boots in a puddle by the door, and drank sweet hot cocoa at the table.
5" x 7" - Limited edition, Signed and numbered. Beautifully printed by old world carbon copy process on the finest watercolor papers with permanent rich pigments, and will keep the vibrancy of the original for hundreds of years.