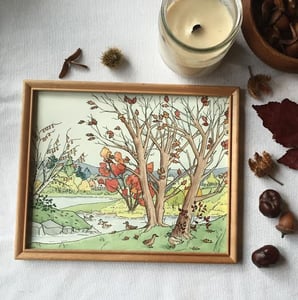 $

60.00
Outside our kitchen window there are yellow-green lilac leaves turning brown at the edges. The white hydrangea I watched all summer is now dry and camel colored; still holding its lovely shape. Orange berries cover our sidewalk, stomped flat by rain boots and trike wheels.
We went on a morning walk last week, hoods up to hide our necks from the wind, and someone inside was cooking breakfast. Smells of bacon and apple puffed out to us and mixed with the scent of mulchy leaves and wet pine.
We came straight home and made two pots of coffee, letting the hot mugs warm our fingers.
8" x 10" - Limited edition, Signed and numbered. Beautifully printed by old world carbon copy process on the finest watercolor papers with permanent rich pigments, and will keep the vibrancy of the original for hundreds of years.